Project –

Oxide Inks Poppy – by Lucy Ellis
Kit List:
Step 1: With this project we going to use oxide inks so lets get your pieces of white and black card stock cut to the following, either with the Sue Wilson Nobel Squares Dies or using a trimmer or guillotine
White card stock – 1 x No6 (12.5cm x 12.5cm)

White card stock – 1 x No8 (15.5cm x 15.5cm)

Black card stock – 1 x No7 (14cm x 14cm)

Black card stock – 1 x No10 (18.5cm x 18.5cm)

White card stock – 1 x 12cm  x 15cm piece of spare card stock
Step 2:
Lay your white card stock in a homemade spray booth made from a cardboard box.  Now gently spray the oxide inks on each piece of white card stock. With the rectangle (12cm x 15cm) spray both sides of the card stock. I start with the lighter colour first and gently dab some of the wet ink with a kitchen roll, this helps to build the depth of colour. Heat drying the layers as well will help to set the colours.  As a final finish I gave it a gentle spray with the Iced Spruce oxide. This will tone the vibrancy of the colours down, with Oxide inks you will have a soft chalk finish to the project.
Step 3:
Dry each piece of card stock with a heat gun.
Step 4:
On your rectangle piece of card (12cm x 15cm) and place your Large Poppy Outline Buddy dies on and cut 1 of each die and place the die cuts to one side to be finished later.
Step 5:
Take your small sprayed square (12.5cm x 12.5cm) place this on top of the magnetic sheet then place your Large Poppy Head stencil, with the writing logo facing upwards, then secure with stencil tape. We now gently sponge through your black Archival Ink and build up your ink layers. I tend to use 3 layers of ink to give me a solid black image, always finish the inking with a stencil brush to ensure you reach all the fine edges of the stencil. Remove your stencil and place your stencil to one side, do not worry about cleaning your stencil just yet as you will be using again.
Step 6: Once you have your chosen stamp sentiment stamp on the card in the top right hand side of the image using Versafine Black ink place this to one side to dry, I have used our Just words – Family stamp set and chosen the Friends sentiment for this project.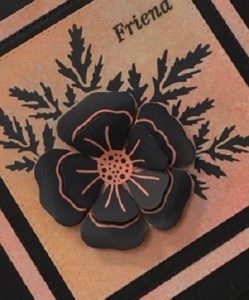 Step 7:
Take your large die cut poppy image and match up to the back of the stencil and secure with a piece of stencil tape. Lay over the magnetic sheet and secure the stencil down, repeat the technique of inking the black Archival Ink through the stencil. Repeat again with the small poppy image and place to one side to dry.
Stage 8:
On your 8 x 8 inch card blank and start to build up your mat and layering of die cut squares, your top layer being your oxide black poppy square it is your choice what type of adhesive you use secure these I have used double sided tape …..
Stage 9:
On the back of your Large black die cut Poppy apply a little glue to the underside, match this to the image of the Poppy on the card and stick down. Then do the same with your small Poppy and allow to dry. When dry gently tease the petals up to make it stand up and give a 3D effect
Your project is complete !
Top Tips:
Remember always use a Magnetic sheet when using metal stencils why? Because this will help provide a closer bond with the stencil to card stock.

To clean your stencil when using Archival ink use stamp cleaner or nail varnish remove and clean with a nail brush then wash with warm soapy water.
I hope you enjoyed this project please feel free to leave a comment or share with friends!
Lucy 
Sweet Poppy Stencils